Apple's new phone without bangs is on the hot search again, will you choose the first batch to buy the iPhone 14?
Recently, all kinds of news about the new iPhone 14 series have been flying all over the sky. Although it has not yet entered the stage of mass production, according to past practice, the news at this time has been infinitely close to the truth.

It can also be seen from the previous reports on this site that every year to around June, both the appearance and the configuration leaks have been extremely consistent with the real machine, especially the appearance concept map, except for the color difference, other parts are completely the same.

This also means that the renderings of the iPhone 14 series that are widely circulated on the Internet are also very close to the real machine, especially the hole-digging screen design of the Pro version.

In addition to the screen, this year's iPhone 14 series will also have a major product planning change. The standard version of the iPhone 14 is divided into two models, small and small. The mini version has been cut off, and a large-size iPhone 14 Max model has been added. , this machine may be the biggest explosion.

However, the overall configuration of the standard version has further widened the gap compared with the Pro version. Even the latest A16 is not used, and the current A15 chip is still used. Although the memory has been upgraded to 6GB, it still uses almost 1,000 yuan that has been abandoned by Android. LPDDR4X specifications.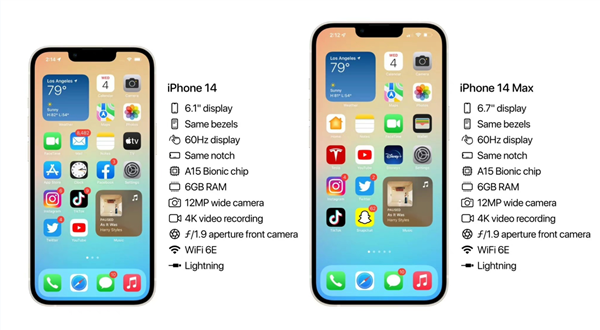 In other respects, the iPhone 14 standard version still has a rear 12-megapixel dual camera, and three storage specifications are available, namely 128GB/256GB/512GB. The entry-level version can no longer meet the needs of most people.

The iPhone 14 Pro series is upgraded to A16 chip, equipped with 6GB memory of LPDDR5 specification, with 256GB/512GB/1TB storage options, and the performance will be significantly enhanced.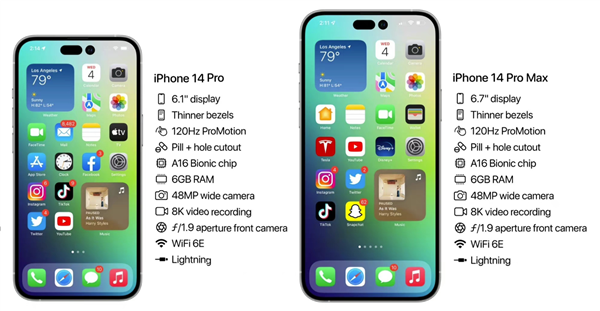 The rear camera has finally brought a pixel upgrade this time. It has been upgraded to 48 million pixels for the first time, and will support 8K video recording. For bloggers and video workers, it can directly replace the camera in some scenarios.
Will you choose the first batch to buy the iPhone 14?